The American giant in drinks sector, Coca-Cola, had the same or better earnings than expected. Despite the inflation and crisis around the world, the company managed to find a way around the problems and deliver good numbers. Apmefx took better look into the shares and company itself.
Coca-Cola's 4th quarter earnings per share and forecast [1] [2]
Coca-Cola reported a Q4 earnings per share of 0.45 USD, which matched the expected amount of analysts. The company generated a revenue of 10.1 billion USD, surpassing the predicted figure. During the fourth quarter, the average selling price of its products, including Sprite and Fanta, increased by 12%, while the number of unit cases sold decreased by 1%.
Coca-Cola Company predicted a 2023 profit higher than what analysts had expected, relying on the continued demand for its soft drinks despite multiple price increases to manage rising costs. The company saw the demand for its beverages stay consistent although they raised prices in recent quarters to counter growing costs related to freight, commodities, and labour. The company projected a full-year increase of 4% to 5% in adjusted earnings per share, surpassing the average analyst prediction of a 2.96% growth.
Stocks overview
Stocks of Coca-Cola Company are listed on New York Stock Exchange in USA, under the ticker "KO". The price of a stock is not very high, as it currently sits at 60,60 USD per share, which makes it affordable and available for many investors. Market capitalization of company is 262,58 billion USD and offers interesting dividend yield of 2,95%. Important thing to mention is also the fact that Warren Buffet himself is having their stocks in his portfolio. If we take into account all the mentioned things, there is probably no doubt that this is one of the top interesting companies to invest to.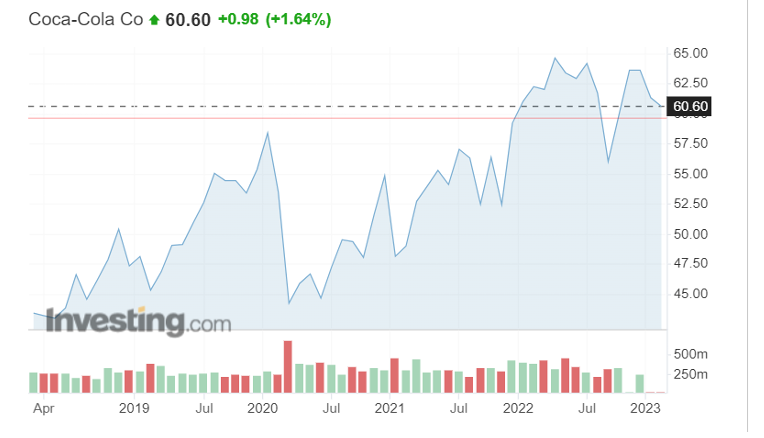 Movement of Coca-Cola's stocks in the last five years. (Source: Investing) *
Expectations for the near future
Coca-Cola's Simply brand has expanded into the cocktail mixers market with the launch of Simply Mixology. The line consists of three natural flavoured juices – Strawberry Guava Mojito, Lime Margarita, and Peach Sour – aimed to be enjoyed with or without alcohol. The brand aims to cater to the growing trend of cocktail consumption and mocktail drinking. Alex Ames, the creative director for nutrition at Coca-Cola North America, said that the company wanted to simplify and enhance the at-home drinking experience with natural, great-tasting solutions that can be used as mixers or as ready-to-drink mocktails. However, they will have to make great effort, because one of their biggest competitors, Pepsi, also decided to enter that sector. [3]
Conclusion
We are talking about one of the biggest companies in the world, with proven history and proven results. It seems that also for their future, the company has great plans and strategy. And with the affordable price, it could be a nice opportunity to make potential profit.[1]
Peter Svoreň, executive director Apme FX
* Past performance is no guarantee of future results.
[1] Forward-looking statements are based on assumptions and current expectations, which may be inaccurate, or based on the current economic environment which is subject to change. Such statements are not guaranteeing of future performance. They involve risks and other uncertainties which are difficult to predict. Results could differ materially from those expressed or implied in any forward-looking statements.
[1] https://www.investing.com/news/stock-market-news/cocacola-sees-annual-profit-above-estimates-on-resilient-demand-price-hikes-3002672
[2]https://www.investing.com/news/stock-market-news/cocacola-reports-inline-q4-eps-revenue-beats-432SI-3002661
[3] https://www.thestreet.com/restaurants/coca-cola-leans-into-a-new-market-pepsi-is-already-there?puc=yahoo&cm_ven=YAHOO