Regeneron is a leading biotechnology company, that is inventing life-transforming medicines for people with serious diseases. It was founded in 1988 by a young neurologist and assistant professor, Leonard Schleifer. 35 years long experience brought the company big success. They have been granted with approval nine times for their FDA approved treatments, as well as numerous products and products in development. Their medicines are covering big spectre of illnesses – eye diseases, allergies, cancer, cardiovascular and metabolic diseases, hematologic diseases, pain, infectious diseases, and rare diseases. Good work and following their perspectives brought them many awards, among which was also number one rank in Science magazine's global Top Employer survey for six of the past eleven years.[1]
⠀
Medicines and treatments
Most popular medicines and treatments they are offering are Arcalyst (for rare autoinflammatory conditions), Eylea (treatment of a common cause of blindness in the elderly), Zaltrap (for metastatic colorectal cancer), Dupixent (for atopic dermatitis) and Inmazeb (drug made of three different antibodies and is developed to treat deadly virus Ebola).[1] In the last years they were also present with drugs for Covid. Their biggest success was Casirivimab and Imdevimab, which are antibody cocktails for Covid 19 and were the first combination therapy to receive FDA emergency use authorization. It was shown that this treatment lowers the covid symptoms and lowers hospitalization.[2] However, last year WHO and FDA limited the use of them, because it was not clear if it will be highly effective against Omicron.[3]
⠀
Current research and projects
Regeneron and BioNTech expanded agreement for lung cancer treatment, which will begin with third cancer study. Treatment will target and cure the most common type of lung cancer, patients with non-small-cell lung cancer. As it was agreed, both companies will share equally all development costs for the studies. If studies will be successful, it will be great step for humanity.[1]
⠀
Partnering with Sanofi, Regeneron announced that FDA has accepted their supplemental biologics license application, with which they were seeking for label expansion of Dupixent – medicine that would treat EoE (a chronic disease of the esophagus – muscular tube, that carries food and liquids from your mouth to stomach). A decision from regulators is expected in the beginning of August. If approved, Dupixent will become the first medicine to treat EoE in the United States.[1]
⠀
Regeneron also presented encouraging phase 2 results for their High-dose Aflibercept. Medicine, or in this case injection, is treating patients with wet age-related macular degeneration. New data and reports showed huge improvement in the treatment. Company said that these results are exciting potential for aflibercept to maintain dryness and improve vision, compared to the standard-of-care Eylea – which is also their product.[1]
⠀
Financials
Company is reporting better revenue each year, with the only exception in 2018, when the revenue was lower than a year before. Otherwise, Regeneron constantly improves their revenue, with last years reported was 16 billion dollars, and in 2020 it was 8,5 billion dollars, which means almost 100% increase.[1]
⠀
Price of a stock is currently a little bellow 700 dollars, which is a 44.08% increase in one year. According to 15 analysts: 9 say to buy a stock; 5 say to hold it and only 1 analyst said to sell the stock.* Target prices set by them are also in the average around 700 dollars, with the highest on 843 dollars, which means around 20% higher price than the current one.[1], [1] At the current price, market capitalization of Regeneron is 75,80 billion dollars.
⠀
Company also found their space on the list of top 10 pharmaceutical companies to buy in 2022, done by Insider Monkey. As an explanation, why the company was put there, they said that because of the impressive revenue records, as well as it being one of the top picks among elite hedge funds. Reported number of hedge fund holders is 41.[1]
⠀
Regeneron was also found in an analysis, that suggested company to decide for a stock-split. They said that company is doing great and is fundamentally and financially stable, so with that move they could attract more investors, as 700 dollars per stock might be too expensive for quite few people. If the company will decide to do the stock-split, it could have positive effect, as it was seen for example with Tesla and Nvidia, however it is not a rule.[2],[1]
⠀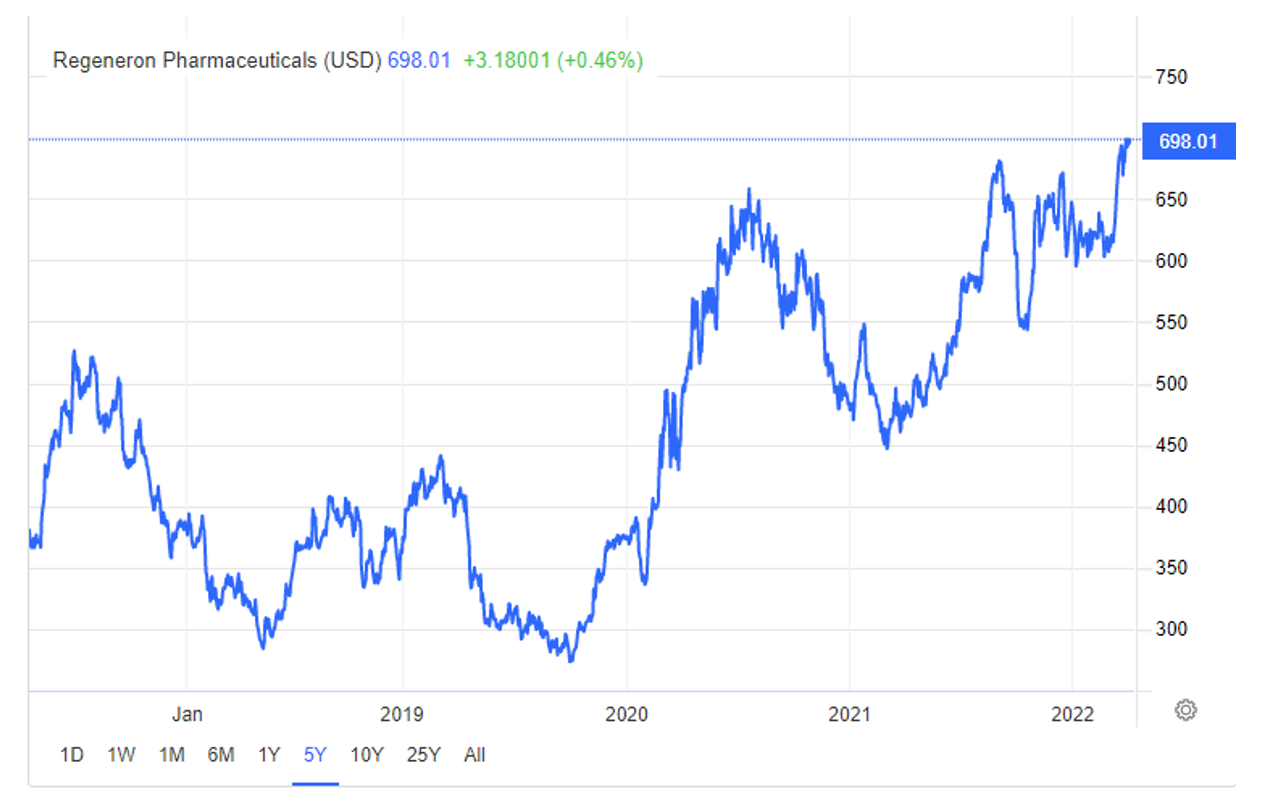 Chart 1 Movement of Regeneron stock in last five years. (Source: Trading Economics) *
⠀
Summary
Regeneron looks like an attractive company, especially because of good revenues and financial stability. With their involvement in many various projects, they are on the good way to keep the continuous growth of their business, which of course should have positive effect on the price of stocks and interest of investors.[3] Investing into pharmaceutical stocks makes sense when their medicines are still in trials! Once they come to the market and are approved, you might be too late already!
* Past performance is not guarantee for future results.
____________
[1], [2], [3] Forward-looking statements are based on assumptions and current expectations, which may be inaccurate, or based on the current economic environment which is subject to change. Such statements are not guaranteeing of future performance. They involve risks and other uncertainties which are difficult to predict. Results could differ materially from those expressed or implied in any forward-looking statements.
____________
[1] About Regeneron: https://www.regeneron.com/about
[2] Medicines and treatments: https://en.wikipedia.org/wiki/Regeneron_Pharmaceuticals
[3] About treatments: https://investor.regeneron.com/news-releases/news-release-details/regenerons-regen-cov2-first-antibody-cocktail-covid-19-receive/
[4] Limiting use of treatments: https://www.fda.gov/news-events/press-announcements/coronavirus-covid-19-update-fda-limits-use-certain-monoclonal-antibodies-treat-covid-19-due-omicron
[5] BioNTech and Regeneron lung cancer treatment: https://finance.yahoo.com/news/biontech-bntx-regeneron-expand-agreement-161504302.html
[6] Dupixent: https://finance.yahoo.com/news/regeneron-regn-sanofi-priority-review-142202205.html
[7] Aflibercept: https://finance.yahoo.com/news/regeneron-presents-encouraging-phase-2-125000703.html
[8] Revenue: https://www.macrotrends.net/stocks/charts/REGN/regeneron-pharmaceuticals/revenue
[9] Target prices, analysts: https://www.tipranks.com/stocks/regn/forecast
[10] Top 10 pharma: https://finance.yahoo.com/news/10-best-pharmaceutical-stocks-buy-072737477.html
[11] Stock-split: https://www.fool.com/investing/2022/03/24/amazon-stock-split-3-companies-that-should-follow/?source=eptyholnk0000202&utm_source=yahoo-host&utm_medium=feed&utm_campaign=article