Who did not hear about one of the biggest, if not the biggest, electric car producer in the world? Yes, we are talking about Tesla and its founder, Elon Musk. Tesla decided for the first-time investment in Mexico, and it will be gigafactory. At Apmefx we decided to take a deeper look into the company and what are its other plans.
Gigafactory will be its first investment in Mexico [1]
Tesla CEO Elon Musk has announced that the company will open a new gigafactory in Mexico, specifically in the northern border state of Nuevo Leon. The plant, which is worth more than 5 billion USD, will be the biggest electric vehicle plant in the world, according to Mexican officials. Musk said that the factory will be supplementary to the output of Tesla's other factories and did not disclose details on the number of vehicles it will produce annually or the company's investment in it. The move comes as Tesla aims to expand its global output and cut assembly costs by half in future generations of cars.
The project will generate 5,000 to 6,000 jobs and marks the largest of several recent EV investments in Mexico. Musk and Mexican President Andres Manuel Lopez Obrador have also discussed plans to develop the Isthmus of Tehuantepec in southern Mexico and tour the northern state of Sonora, where the government is building a solar energy park and pushing for state-run lithium production.
Stocks overview [2]
Stocks of Tesla are listed on Nasdaq Stock Exchange in USA, under the ticker "TSLA". The price of a stock is currently at 202,77 USD per share, which makes it rather affordable and available for many investors. Market capitalization of company is 635,37 billion USD. Company does not have dividends; however, they rather reinvest the money in its business. The price of a stock is volatile, as the years expand of movement was between 101 USD and 384 USD. *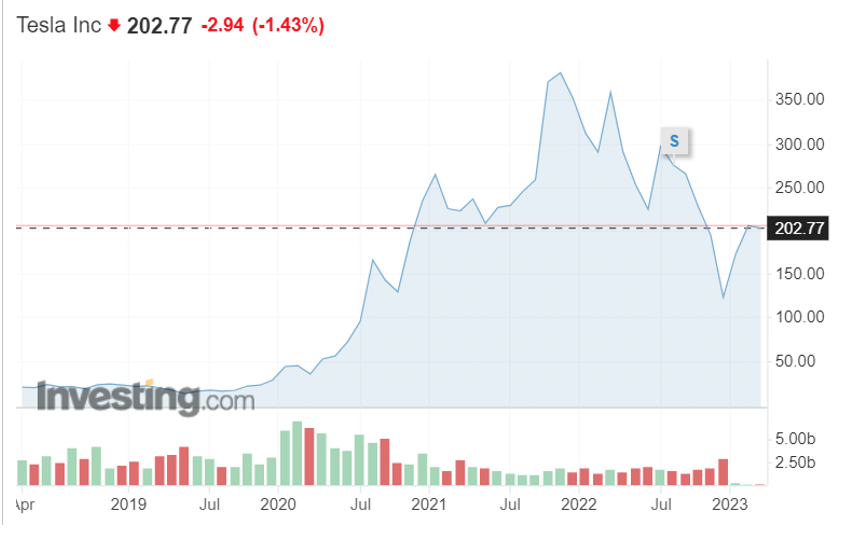 Movement of Tesla stocks in the last five years. (Source: Investing) *
Vows for the future [3]
During Tesla's investor day event in Texas, engineers announced plans to cut assembly costs in half for future generations of cars. However, CEO Elon Musk did not reveal a timeline for the release of an affordable electric vehicle. The event featured presentations from more than a dozen Tesla executives, including new global production chief Tom Zhu, as the company sought to demonstrate the depth of its executive bench beyond Musk. Despite expectations that Musk would unveil a plan for a more affordable EV, there were no details provided on when the next generation of cars would be launched or what models would be offered. While executives noted that Tesla's next-generation platform would include more than one vehicle built in standardized factories, Musk declined to answer questions about specific models.
Conclusion
In conclusion, Tesla is making its first-ever investment in Mexico with the construction of a new gigafactory in the state of Nuevo Leon. The project is worth over 5 billion USD and is expected to generate thousands of jobs while also helping to cut assembly costs for future generations of cars. This move comes as the company aims to expand its global output and provide more sustainable energy solutions. Tesla therefore has clear plans for the future expansion and growth, which makes it an interesting stock pick.
Peter Svoreň, executive director of APME FX
* Past performance is no guarantee of future results.
------
[1] https://www.reuters.com/business/autos-transportation/teslas-new-mexico-plant-could-create-up-6000-jobs-foreign-ministry-official-2023-03-01/
[2]https://www.investing.com/equities/tesla-motors
[3] https://www.investing.com/news/stock-market-news/elon-musk-expected-to-outline-more-affordable-ev-and-new-tesla-master-plan-3019330