The German manufacturer of premium clothing can claim a new record. For the first time, it has exceeded the €1 billion mark for quarterly sales. Despite high inflation and a looming recession, the company achieved excellent results and the forecasts for 2023 also look promising.
Beating profit expectations
Expected earnings before interest and taxes for fiscal year 2022 are expected to grow by around 47% to €335 billion. [1] The forecasts were slightly lower and ranged between 310 and 330 million euros, so the luxury brand exceeded all forecasts. The fourth quarter was the most successful. Revenues in the last quarter rose by around 18% year-on-year to €1.07 billion. The company attributes the success mainly to a new marketing campaign that attracted customers to both its BOSS athleisure and HUGO progressive fashion brands. The publication of the final results for 2022 and the financial outlook for fiscal year 2023 will be released on March 9.
Share value
Hugo Boss Ag Hugo Boss N Ord Shs is listed on the London Stock Exchange and has an average market capitalisation of €4,095 million. There are approximately 69 million shares on the market. Despite the exceptional earnings report, the company's shares saw a slight decline of roughly 1%. *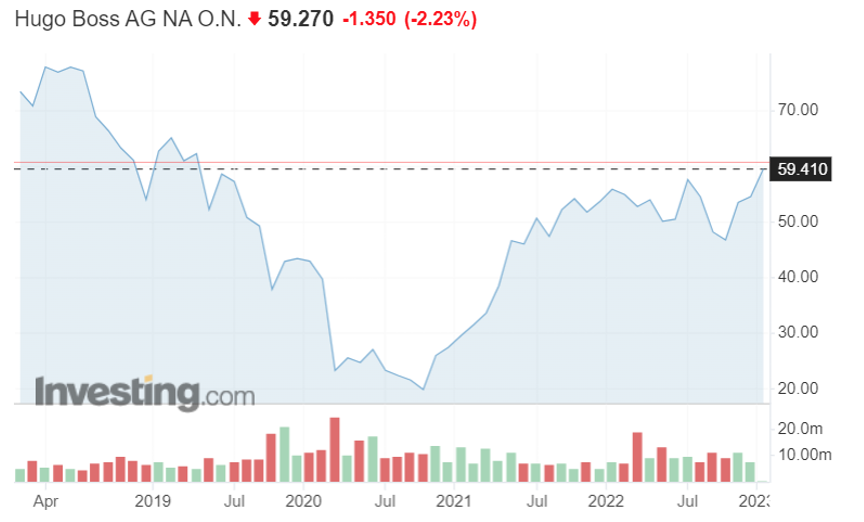 The performance of Hugo Boss shares over the last 5 years. (Source: Investing)
New investment in Hugo Boss
At the beginning of the year, the UK-based Frasers Group announced that it would be investing in the popular Hugo Boss brand. The British company is engaged in retail sales and also operates in the field of intellectual property. The investment will include 2.71 million ordinary shares, representing 3.9% of the total share capital of Hugo Boss and backed by the sale of call options, and 17.57 million ordinary shares, representing up to 25% of the total share capital of Hugo Boss. This investment could also help the German company perform even better than before in 2023 and maintain its leading position among luxury brands in the fashion industry. [2]
[*] Past performance is no guarantee of future results
[1,2] Forward-looking statements are based on assumptions and current expectations, which may be inaccurate, or on the current economic environment, which may change. Such statements are not guarantees of future performance. They involve risks and other uncertainties that are difficult to predict. Results may differ materially from those expressed or implied by any forward-looking statements.