Although the Omicron mutation does not show a high number of hospitalisations and deaths, it is spreading at an incredible speed. It is expected to peak in Europe in the coming weeks. With the high number of infections, we estimate that the expected global recovery will slow down.
Supplier outages
The increasing number of cases of the Omicron variant may cause staff shortages and delays in shipments being transported, particularly on aircraft. During the winter period, a rapid increase in sick people and crew shortfalls at airlines can be observed. United Airlines recently announced that they are reducing the number of flights until the Covid-related staffing shortages, which have caused thousands of cancellations across the industry, are resolved. The restrictions imposed on supply chains in the US, Europe and China will continue to disrupt global supply chains and, not least, fuel rising inflation, which will require more aggressive interest rate hikes. [1]
*
United Airlines Holdings Inc.'s performance over the past 5 years. (Source: www.investing.com)
Uncertainty in stock markets
Uncertainty will be in the markets throughout 2022. The growth of the S&P 500 index could slow significantly to only about 8%. [2] The Nasdaq Composite Technology Index also declined. However, investors remain calm, the stock market is more or less without emotion, with the interruption of the Santa Claus rally, which moved the S&P 500 index to an all-time high.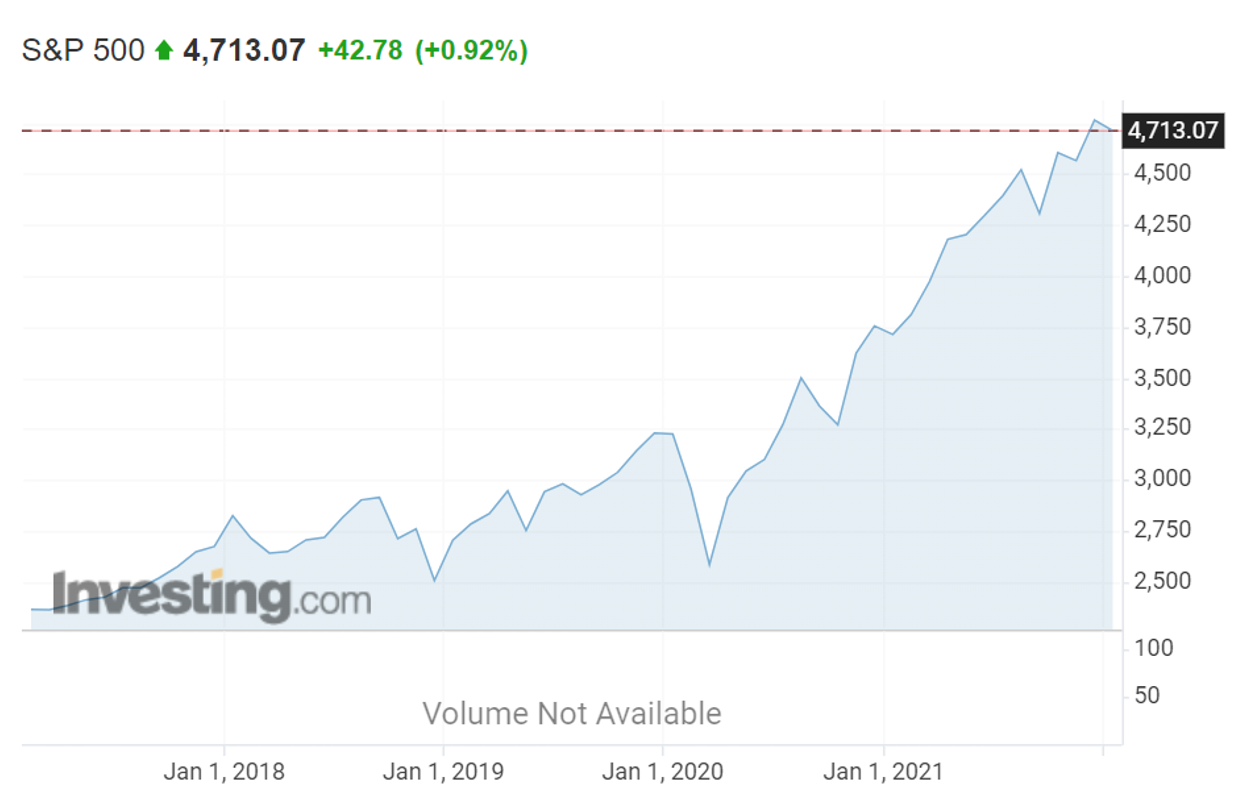 *
S&P 500 index performance over the last 5 years. (Source: www.investing.com)
The labour market will bleed
The previous Delta variant had a significant impact on the global labour market. In the case of Omicron, the scenario is likely to be similar. There may be a reduction in both labour supply and demand. As a result, we will see an increase in the unemployment rate. Many employees will remain in quarantine, which means that they will not be at work, but will remain employed, which will bring work restrictions.
The World Health Organization (WHO) is raising a warning finger and warns EU countries that more than half of people in Europe are likely to become infected with Omicron by the end of March 2022. Booster doses of the original vaccines may not be sufficient protection if a new mutation spreads. The WHO warns that a vaccination strategy based on repeated booster doses of the original vaccine formulation is unlikely to be sustainable and that the virus will infect half of all people in Europe.
[*] Past performance is no guarantee of future results
[1,2] Forward-looking statements are based on assumptions and current expectations, which may be inaccurate, or on the current economic environment, which may change. Such statements are not guarantees of future performance. They involve risks and other uncertainties that are difficult to predict. Results may differ materially from those expressed or implied by any forward-looking statements.