TikTok, one of the biggest short videos platform, or one of the first offering this kind of entertainment, is facing a potential ban in the United States. When it was firstly introduced, it has great success and with that gained attention from social media giants like Meta and Snap. Apmefx will look further into the matter and analyse the potential outcome for their competition.
TikTok's potential ban in US
The U.S. House Foreign Affairs Committee has voted in favour of a bill that would allow President Joe Biden to ban TikTok, the viral video app owned by China's ByteDance, that has been taking market share from established social media companies. TikTok has been growing rapidly in the U.S., with over a billion monthly users and 67% of American teens using the app, according to an August survey. However, concerns over data privacy due to the app's Chinese parent company have grown, with Congress already banning TikTok from government devices in December.
Such type of ban would be the biggest so far given to social media companies. And, if it will happen, Meta, Snap and Google could benefit big time. Lawmakers have a considerable distance to go before any concrete ban on TikTok can be established despite the legislation that was presented before the committee this week. If this bill is approved by the Republican-controlled House, the Democratic majority Senate would have to pass some version of it, which could be difficult because of opposition already expressed by some Democrats. Assuming it passes the Senate, President Biden will still need to decide whether to sign it or veto it. TikTok has faced challenges from U.S. officials before, as former President Donald Trump announced his plans to ban the app by executive action in 2020.[1]
Meta's stock overview [2]
Stock of Meta Platforms are listed on Nasdaq Stock Exchange in USA, under the ticker "META". The price of a stock is currently at 184,90 USD per share, which makes it affordable and available for many investors. Market capitalization of company is 479,38 billion USD. Company does not pay dividends; however, they are constantly investing in development of their business. The price of a stock is volatile, as the years expand of movement was between 224 USD and 91 USD. *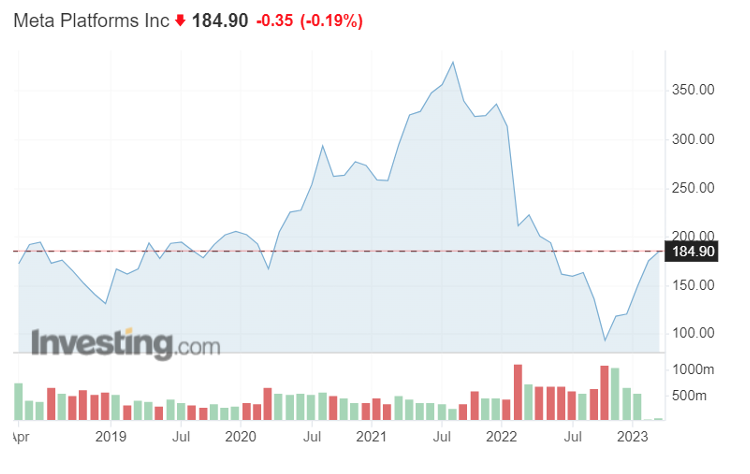 Movement of Meta Platforms stocks in the last five years. (Source: Investing) *
Meta Platforms is planning to cut thousands of jobs [3]
Meta Platforms is set to lay off thousands of employees in a new round of job cuts, driven by financial targets and unrelated to the flattening of the organization. This comes only a few months after Meta laid off over 11,000 workers. Meta was planning to downsize and reorganize, which was echoed by several statements made by CEO Mark Zuckerberg. The mass layoffs in November were the first in the company's history, and the new round of cuts would be among the biggest in tech companies such as Google-parent Alphabet Inc and Microsoft Corp.
Conclusion
In summary, TikTok's potential ban in the United States could have significant implications for the social media landscape, with Meta, Snap, and Google potentially benefiting. However, any concrete ban on TikTok is still a long way off, with the bill needing to pass through both the Republican-controlled House and Democratic majority Senate and President Biden needing to sign it. Meanwhile, Meta Platforms is undergoing a new round of job cuts driven by financial targets, unrelated to the previous organizational flattening.
Peter Svoreň, executive director Apme FX
* Past performance is no guarantee of future results.
---------
[1] https://www.cnbc.com/2023/03/01/tiktoks-potential-ban-in-us-could-be-boon-for-meta-and-snap.html
[2]https://www.investing.com/equities/facebook-inc
[3] https://www.investing.com/news/stock-market-news/meta-plans-to-cut-thousands-of-jobs--bloomberg-news-3023477