Over the past year, we have seen an interesting effect in the markets, layoffs and subsequent stock growth. It's not always the norm, but Zoom, like other tech giants, has taken this route.
The trend of layoffs
The optimism reflects the assumption that cutting staff can boost company profits. Most recently, Zoom disclosed its plan to lay off as many as 1,300 employees, or 15% of its total workforce. The stock almost immediately responded with a rise of about 10%. * This is becoming a trend as the company responds to the slowdown in the global economy. During the pandemic, Zoom experienced a boom similar to other technology companies, but the problem is the uncertainty of the future. We can expect fourth quarter financial results on February 27.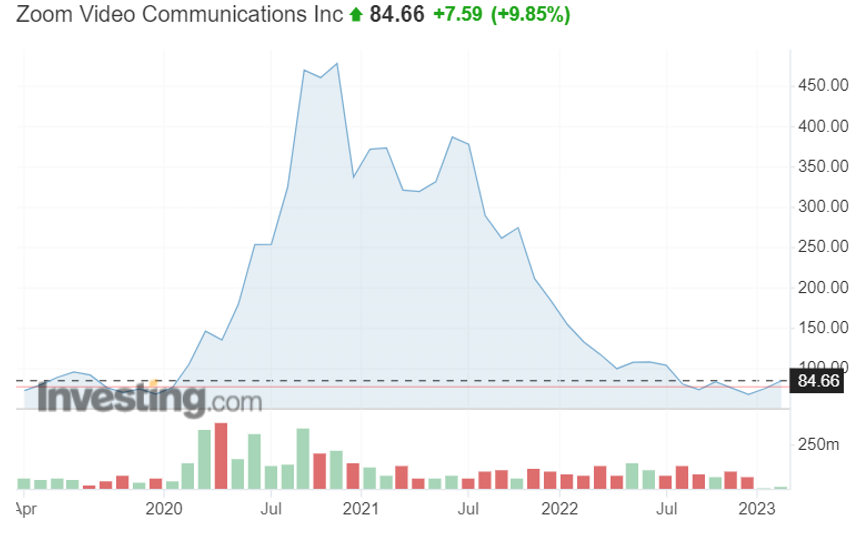 Zoom's stock performance over the past 5 years. (Source: Investing) *
Who else is getting laid off?
If you want to keep track of companies that are planning or have already announced layoffs, and possibly make a guess as to what stocks might rise in the future, you currently have a wide range of choices. Technology firms and other giants are becoming increasingly worried about the slowing economy. Alphabet is cutting 12,000 jobs, Meta Platforms plans to cut 11,000, and we can go on like this with companies like Microsoft, Intel, Lyft, Salesforce.
Financial segment
The banking sector is also reporting cost optimization. One of the most important global financial institutions, which provides a wide range of financial services in investment banking, securities, investment management and consumer banking, has also announced layoffs. The number of employees is expected to be reduced by around 3,000. The year 2023 is a year of cost-cutting that investors can use to their advantage. Another major company in the finance sector that is moving in a similar direction is Morgan Stanley. The upside of such interventions is the arrival of bullish sentiment, which means that the stock could increase in value by at least a couple of percent in the next six months. [1]
Peter Svoreň, executive director Apme FX
[*] Past performance is no guarantee of future results
[1] Forward-looking statements are based on assumptions and current expectations, which may be inaccurate, or on the current economic environment, which may change. Such statements are not guarantees of future performance. They involve risks and other uncertainties that are difficult to predict. Results may differ materially from those expressed or implied by any forward-looking statements.